Too Faced's New Better Than Sex Eyeliner and Mascara is worth the Hype!
Eyeliner and mascara are two things I can't live without, so when I heard about Too Faced's New Better Than Sex Eyeliner and Mascara, I wanted to buy them. After hearing about it a lot from celebrities and bloggers, I went to buy it. Here's what the Better Than Sex Liquid Eyeliner was like to use.
Better Than Sex eyeliner:
One stroke of the liquid eyeliner is said to create an "intense black line" that lasts 24 hours. The product also claims to be waterproof, non-fading, flake proof, smudge proof, and intensely pigmented. And the claims are totally right. It is one of the easiest products that i have used. Rather than featuring a felt tip, this eyeliner pen utilizes an "innovative dual-fiber brush."
It comes in a sleek baby pink colored pen packaging. I used it with shimmery shades as well, while most liners do not work over shimmer, this one worked fine. As per my experience, the eyeliner didn't fade or flake, it kept its intense pigment all day long. It is also smudge proof, i am a big fan of it now.
Pros:
It is waterproof
It is smudge-proof
The eyeliner does not fade
The dual-fiber brush makes the application easy
It is easy to use
Better Than Sex mascara:
I was really excited to try Too faced Better than Sex mascara and when i finally got my hands on it, i had high expectations. From the first use only I was totally impressed with its performance. It takes your lashes to a whole new level, by adding up to the volume and curl. It Comes in a very simple but pretty tube packaging of light pink color.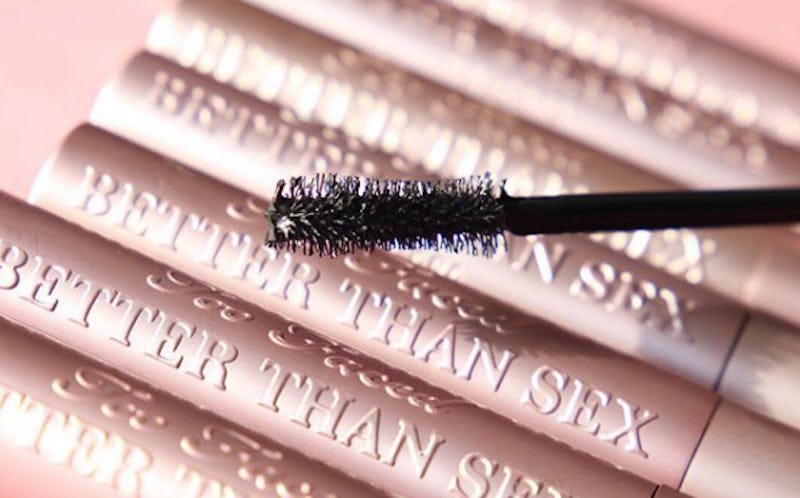 It has an hourglass shaped wand, people with small deep set eyes might get the product everywhere, so be careful while using. This mascaras formula is slightly dry, as it is thick. It gives my lashes length, volume and separation. My lashes look amazing all day long without budging. I highly recommended this mascara to people who want to enhance their lashes without using fake ones.
Pros:
Gives lashes length and volume.
Does not make lashes clumpy.
Does smudge.
Waterproof, you do need an oil-based remover to get off completely.
Rich deep black hue.
Get your hands on Better Than Sex eyeliner and mascara set.
Set price: INR 2500/-
Better Than Sex mascara: INR 1900/- (8ml)
Better Than Sex Eyeliner: INR 1700 /-